Russia Wants To Be Seen As The Owner Of Crimea. Apple Just Recognized Them.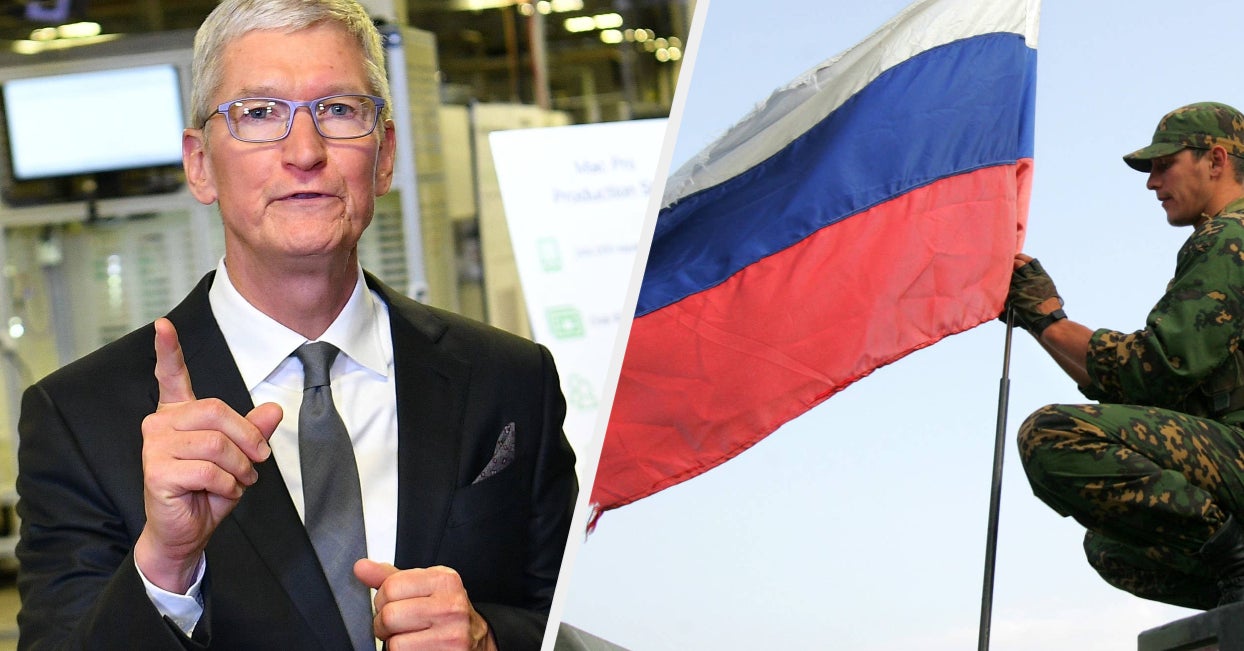 KYIV — If you want a guaranteed way to anger a Ukrainian, tell them Crimea belongs to Russia.
Ukrainian diplomats are lashing out at Apple after it gave in to Moscow's demands to show Ukraine's Crimean Peninsula as part of Russian territory on its maps and weather apps when accessed from Russia.
"IPhones are great products. Seriously, though, @Apple, please, please, stick to high-tech and entertainment. Global politics is not your strong side. #CrimeaIsUkraine," tweeted the Ukrainian foreign minister, Vadym Prystaiko.
Hours later, the Ukrainian embassy in Washington joined him in criticizing the tech giant.
"We guess Ukrainians not giving any thanks to @Apple this #Thanksgiving! So let's all remind Apple that #CrimeaIsUkraine and it is under Russian occupation – not its sovereignty," it tweeted.
Russia invaded Crimea with soldiers in unmarked uniforms and annexed the Black Sea peninsula in 2014, in a move that was condemned by the vast majority of the international community. In response, the US and EU slapped Russian politicians, individuals, and companies with sanctions over the land grab that remains in place today.
News that Apple had complied with Moscow's demands was first reported by the BBC, which confirmed the Crimean cities of Sevastopol and Simferopil, as well as Crimea itself, were identified as Russian territory on Apple Maps and Apple Weather. It's unclear when Apple made these changes.
However, when viewing Apple Maps and Apple Weather from outside Russia, including Kyiv, those cities and Crimea don't show as being a part of any country. In those apps, which come preinstalled on all Apple iPhones, other global cities are typically listed with an associated country and state or region.
Apple didn't immediately respond to BuzzFeed News' request for comment.
The State Duma, Russia's lower house of parliament, said in a statement on Wednesday that it had met with Apple's Russia representative Daria Ermolina, whom it said had confirmed what Russia described as "inaccuracies" that had finally been "eliminated."
"Crimea and Sevastopol now appear on Apple devices as Russian territory," the Duma said in a statement.
It also cited Vasily Piskaryov, chair of the Duma security and anti-corruption committee, as saying that Apple had complied with the Russian Constitution.
According to the BBC, it was Apple that first suggested it could show Crimea as neither Russia nor Ukraine, but as undefined territory.
That's the down-the-middle approach Google has taken. It shows Crimea as undefined and not belonging to Russia or Ukraine on its maps app. But Google uses the Russian spellings of Crimean cities and other notable places on its maps, rather than the Ukrainian spellings, when accessed from Russian territory.
This isn't the first time Apple has made changes to its business following pressure from Russia. Earlier this year, Apple confirmed that it was storing some user data in Russia to comply with a local law that took effect in 2015, according to a Bloomberg report that cited a Russian government filing.
On Wednesday, Prystaiko tried to illustrate for Apple what the map change means to Ukrainians.
In 2015, Google Maps found itself in a similar scandal when it put a Chinese name on a shoal in the South China Sea, which is the subject of a territorial dispute between China and the Philippines. Google quietly removed the Chinese name, but not before Filipinos started online outrage campaigns demanding that Google stop associating the area with China.
KYIV — If you want a guaranteed way to anger a Ukrainian, tell them Crimea belongs to Russia. Ukrainian diplomats are lashing out at Apple after it gave in to Moscow's demands to show Ukraine's Crimean Peninsula as part of Russian territory on its maps and weather apps when accessed…